Established in Slovenia in 1875, JUB are at the forefront of final coat renders and paints.  JUB have their own research centre on site at their head office near Ljubljana where every new product is tested to destruction before being released to the market.  It is here that they create the next generation of renders and paint coatings.  We operate a JUB tinting plant at our Glasgow depot where we can tint the JUB renders and paints to your choice.
JUB have a range of basecoats suitable for most substrates.  To ensure you have a successful render system applied to your building that will offer the performance that you require, it is important to select the correct base coat.  We offer solutions for most substrates including; clay bricks and blocks, insulation boards, lightweight blocks, existing painted and un-painted renders, sandstone and blockwork. Please contact our Head Office for technical support and site-specific specifications.
Click here to check which base coat you should be using.
JUB OCR Carbon Base   
A hand or machine applied base coat suitable for standard concrete blocks. This base coat is very user friendly and floats and sponges to an ideal finish for a paint or thin coat render finish.
JUB JLM20  
JLM20 is a very high polymer base coat suitable for all substrates. It is very breathable so can be used over both mineral wool and EPS insulation boards, render boards, existing renders and painted surfaces. JLM20 is also used as an adhesive for insulation boards.
JUB Hydrosol Elastic & Classic 
Hydrosol is designed to be used in wet areas and will offer protection against positive and negative water pressure and is suitable for use in contact with drinking water. The Elastic option is a more flexible version for use on balconies and wet rooms. Technical guidance should be sought.
JUB Strong Fix
A high polymer base coat for areas that requires additional impact resistance.  Golf ball impact, hail stones, building plinths etc. and used with the inclusion of JUB reinforcing scrim cloth.
JUB have an extensive range of primers for all eventualities.
Unigrund Primer
Used to equalise the base coat before applying any JUB thin coat render
Akrinol Supergrip
An acrylic primer used with external renders over painted surfaces and difficult substrates.
Jubosil GF/Silicate Primer 
Silicate primers used externally with silicate based paints 
Vezakril primer
Used over very smooth surfaces to add texture and improve adhesion.
Jukol Primer
A deep penetrating primer for use over absorbent substrates internally and externally.
Akril Emulsion
A primer for internal and external areas. Akril Emulsion will consolidate and bind a dusty surface, create an adhesive bond between the substrate and the render. and equalise the absorption.
JUB Thin coat renders are at the forefront of final coat technology. Silicones, Acrylics, self cleaning – they are all here
JUB Unixil 1.5mm & 2.0mm  
Unixil is a hybrid product offering the best of all worlds. With the breathability of a silicate render, the flexibility of an acrylic render and the weathering performance of a silicone render, Unixil is the go to product for the professional applicator.
JUB Unixil Wintermix  
JUB Unixil Winter Mix has been designed for use around the margins of our autumn, winter and spring working conditions. With a specific admixture, this render is suitable for use to lower temperatures of 1deg and at times of high humidity up to levels of 95%.
JUB Nanofinish 1.5mm   
The best thin coat render we can find. It is classed as self-cleaning although that really means it stays cleaner for longer than any other render we can find. For areas of high exposure, increased levels of pollution or environmental contamination, Nanofinish is the best of the best.
JUB XTG 1.5mm   
A more traditional acrylic render ideal for large volume production.
JUB Silicone 1.5mm    
With a very high silicone content this render has really been superseded by with the introduction of Unixil and is available to order.
JUB Acrylcolor 
An acrylic paint suitable for use over new cementitious renders and both new and old thin coat renders. 
JUB Silicatecolor 
A very breathable fibre reinforced silicate based paint suitable for painting new and old cementitious renders
JUB Nanocolor 
A self cleaning paint suitable for use over all render both old and new.  Ideal for areas of high exposure and both environmental contamination and high levels of pollution
JUPOL Gold Advanced  
An interior emulsion that is washable and available in more than 10,000 colours. With excellent coverage it works hand in hand with JUB P50 airless plaster.
JUB Latex  
An interior latex paint for heavily exposed walls, it is washable and resistant to conventional cleaning products and disinfectants
JUB Kulirplast  
A range of coloured marble aggregates encased in an acrylic resin. This render provides a very robust aggregate finish that is normally used for exposed areas internally and externally
JUB P50 Airless Plaster  
JUB P50 is ready mixed plaster designed for application by hand or spray machine. It offers an exceptionally smooth bright white finish that only requires a quick sand before final painting or treatment. This allows large areas to be finished without the need for day joints that would be required with traditional gypsum plasters.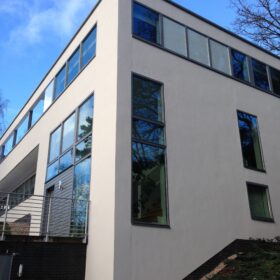 JUB EWI system Portavadie Marina
JUB EWI system Portavadie Marina